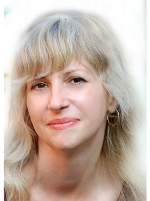 Head of The Department
Raiko Diana
Department Site
About Department
NFORMATION ABOUT THE DEPARTMENT AND LECTURERS
Marketing at NTU "KhPI" is more than 25 years of training high-class marketers for all sectors of the economy and spheres of activity.
Graduates of the department work in various positions in all branches of the economy, at enterprises of various forms of ownership, in state executive authorities, law enforcement agencies, higher educational institutions, and public organizations.
The team of young experienced teachers of the department consists of 5 doctors of economic sciences, 16 candidates of economic sciences.
In the educational process, global trends in the development of marketing technologies and modern market requirements are taken into account, which is reflected in the constant updating and improvement of educational plans.
COMPETITIVE ADVANTAGES OF TRAINING SPECIALISTS AT OUR DEPARTMENT:
many years of experience in training marketing specialists;
thorough fundamental and basic professional training;
combination of theory and practice in the educational process;
formation of educational plans based on market requests;
use of the latest teaching methods and information and computer technologies;
developed partnership relations with business structures and universities of Ukraine and Europe;
international student mobility;
individual approach to each student;
involvement of students in scientific work;
teaching part of the disciplines in English (at the student's choice)
EMPLOYMENT OPPORTUNITIES
Graduates of the educational and professional program become specialists in the field of promotion, branding, PR technologies, marketing event planning, advertising, international marketing and have employment opportunities in the positions of: marketer, marketer-analyst, sales manager, advertising manager, brand promotion specialist , development of websites, implementation and use of information management systems, head of the marketing department, visual advertising and information policy.
COORDINATES
61002, Kharkiv, str. Kirpychova 2, education building №2 (U2), 6th floor, room 601-605
Phone: +38 (057) 707 65 53, +38(067)-282-14-52
Scientific fields
strategic management of the development of marketing activities of the enterprise;
innovative marketing;
development of modern forms of business communications;
image and brand management of the enterprise;
knowledge marketing;
corporate culture of the enterprise
Qualifications and Areas of Specialization
Educational and professional program of the first (bachelor) level of specialty 075 "Marketing" (full-time and part-time departments, budget and contract form of education)
Educational and professional program of the second (master's) level of specialty 075 "Marketing" (full-time and part-time departments, budget and contract form of education)
Educational and scientists program of the third (doctor of philosophy) level of specialty 075 "Marketing" (full-time, budget and contract form of education)