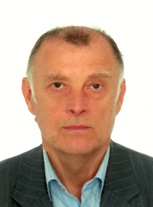 Head of The Department
Shapran Eugene N.
Department Site
About Department
OUR ADVANTAGES
The internationally recognized European Diploma (Diploma Supplement).
NTU "KhPI" is ranked 4th highest among the best universities in Ukraine.
Professors and students of our department are the members of the Ukrainian Commodity Scientists and Technologists Society (Kharkiv branch) under International Commodity Scientists and Technologists Society (IGWT).
Modern learning technologies for students that allow to solve a lot of real practical professional tasks.
High-quality practical training and courses with  leading enterprises (Epicenter, Metro, Knauf, Henkel-Bautechnik), agricultural holdings, travel agencies, etc.
The opportunity to offer instruction for the students in Russian, Ukrainian and English languages.
The opportunity to participate in the research&scientific work with state registration and receive additional income.
NTU "KhPI" provides free public education  and opportunities for scholarships and other study grants
Reasonable education cost for contract form students.
The opportunity to military training (military department).
The modern library.
The students hostel.
The modern training and sports complex.
The Students Palace.
Scientific methodological & educational materials for self-learning, including the Moodle.
Qualifications and Areas of Specialization
Specialty:
076 Entrepreneurship, trade and stock exchange
Bachelor:
076.03 Commodity and commercial business,
076.04 International trade
Master's:
076.01 Entrepreneurship and Commercial Activities