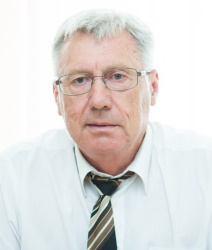 Head of The Department
Igor Petrovich HAMAYUN
Department Site
About Department
Academic department of Software Engineering and Management Intelligent Technologies of the National Technical University «Kharkiv Polytechnic Institute», established in 1964, is the most prominent educational center in the field of IT-specialists' qualification. A great many of graduates have become renowned scientists, university professors, the heads of large-scale enterprises and organizations, achieved major success in business, work in the leading companies of Ukrainian and worldwide IT-industry.
Key success factors in science and education of the academic department are:
Fundamental qualification in the most prospect field (convenient working conditions, high salary, steady increase of the employment market) – the information technologies;
100% employment rate of the graduates according to qualification;
Academic Department has a classes with education completely in English, which gives the graduates additional prospects of employment in international companies with much higher salary rates;
Modern computing equipment;
Leading universities of Germany, Austria, Poland and Slovakia partnership guaranties not only student exchange in the field of educational courses but also undergoing of overseas probation and internship periods;
Academic Department participation in international projects and grants (Erasmus, DAAD) alongside with the leading European universities of Germany, France, Italy, Baltic states, Sweden, Norway and Slovakia;
Graduates employment not only in the prominent Kharkiv and Ukrainian companies (EPAM, Telesens, NIX Solutions, Sigma) but also in internationally recognized IT-enterprises (Google, Siemens, Facebook, Yandex);
Implementation of innovative ways of education: project education (project work fulfilment in the innovative campus UNIT City) and dual system of education (theoretical training and paid practice synthesis) make it possible to shorten the graduate's adaptation period at the employment market and gain working experience necessary for subsequent professional growth.
Scientific fields
Models and algorithms of decision making support in tasks connected to development management of hierarchal division systems; coordination of made decisions issues; imitation modelling; system optimization.
Artificial Intelligence, business administration, process modelling, internet technologies.
Informational systems for complex automation, corporate activity automation, mathematical methods usage for corporate activity analysis. Corporate development administration.
Informational-analytic software development of effectiveness and quality assurance in complex systems.
Mathematical modelling of complex systems and business-processes.
Qualifications and Areas of Specialization
Bachelor's and Master's Degree:
121 «Software Engineering».
122 «Computer Sciences» («Computer Sciences and Intelligent systems»).