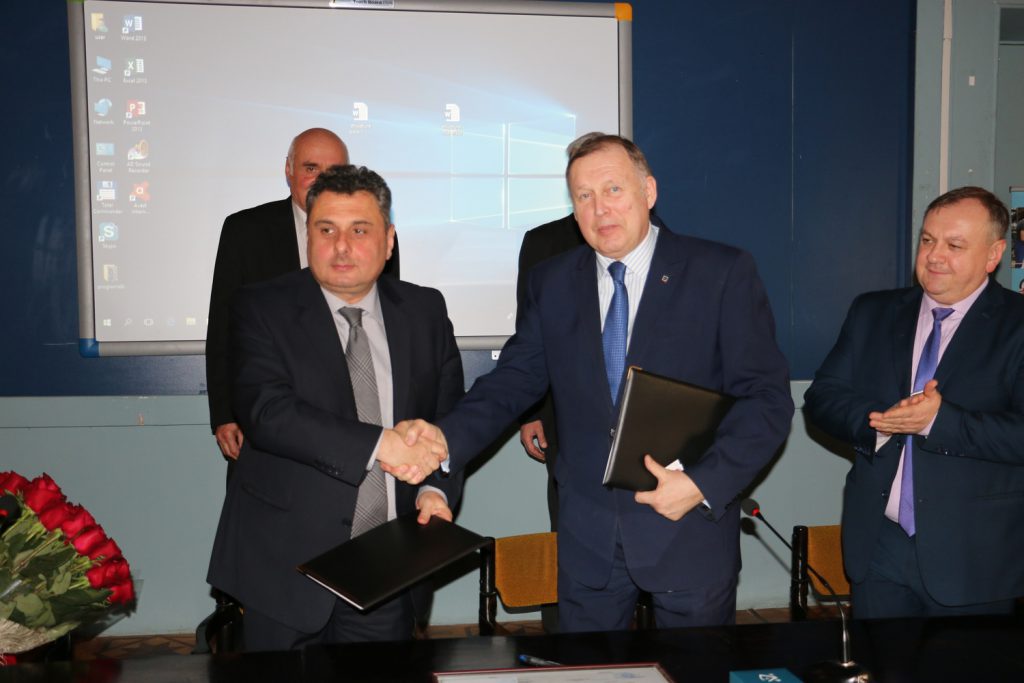 National Technical University "Kharkiv Polytechnic Institute" and Georgian Technical University to enhance further cooperation in educational and scientific-research activities. activities. Appropriate Memorandum was signed on February 14, 2018 as an outcome of the visit paid to Georgian Technical University by Prof. Yevgen Sokol, rector of NTU "KhPI" and Gennadiy Khripunov, pro-rector in charge of scientific and pedagogical affairs of our University. 
According to Prof. Yevgen Sokol, the rector of NTU "KhPI", this Memorandum was signed to promote the exchange of students, post-graduate students, do joint research and file joint projects to get international financing.
Due to GTU Academic Council decision, Prof. Yevgen Sokol, rector of NTU "KhPI" and also Corresponding Member of the National Academy of Sciences of Ukraine was conferred an Honorary Degree of Doctor Honoris Causa of Georgian Technical University. This award was given to the rector of NTU "KhPI" as a token of the recognition of his contribution to the long-term cooperation with the GTU and for his outstanding achievements in the development of fruitful partnership between the GTU and the NTU "KhPI". The diploma and the medal of Honorary Doctor of the Georgian Technical University were presented to Prof. Yevgen Sokol by Prof. Dr. Archil Prangishvili, a rector of GTU, a member of the Georgian National Academy, and also the President of International Engineering Academy. The participants of the meeting were also Mariam Jashi, the chairperson of the Education, Science and Culture Committee of the Parliament of Georgia, the management and the faculty of GTU.
Reference:
Georgian Technical University is the largest leading Technical University in Georgia (Tbilisi). It was founded in 1922.Today the University counts 8 departments, in particular engineering, mining and geological, power-engineering and telecommunication, chemical technologies and metallurgy, architecture, urbanistics and design, computer-aided and information systems, mechanical engineering and liberal arts.