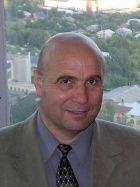 Head of The Department
Tkachuk Mykola
Department Site
About Department
Our mail adress:
61002, Kharkiv-2, Kirpicheva str. 21, NTU «KPI»
building U1, 11 floor, room 1102.
Chair for "Theory and Computer-Aided Design of Mechanisms and Machines".
Faculty "Transport machinebuilding" (ТМ).
Phones:  +38057- 70-76-901,  +38057 70-76-902
E-mail: tmm@kpi.kharkov.ua
Scientific fields
The scientific directions of chair's research are as follows:
the theoretical fundamentals of physicomechanical processes in complex and supercomplex mechanical systems computer simulation;
the theoretical fundamentals of mechanisms and cars elements analysis and synthesis;
specialised software-modelling complexes and CAD/CAM/CAE models creation for basic and most loaded elements of cars, gears and apparatuses research;
complex biomechanical systems research (segments of a spine column with endoprosthesises, simulation orthosises cervical department of a backbone,  prosthetics operations of joints with threw-ceramic artificial limbs application simulation);
gearings calculations and geometrical synthesis methods of difficult coggings research;
special purpose vehicles elements responses on various static, dynamic and impulse loads   simulation;
locomotives frames stress-strain condition research under the traction, weight and dynamic loads;
highvoltage windpower elements stress-strain condition simulation;
knocking-out inertia mashines with unbalanced drive dynamics and stress-strain condition simulation;
traveling crane analysis and synthesis;
machining attachments (press tools, moulds, machine-tools) stress-strain condition condition investigation;
theoretical fundamentals  of the physicomechanical processes simulation with the computer cluster technologies;
applied problems solution for the local industrial factories, domestic and foreign corporations.